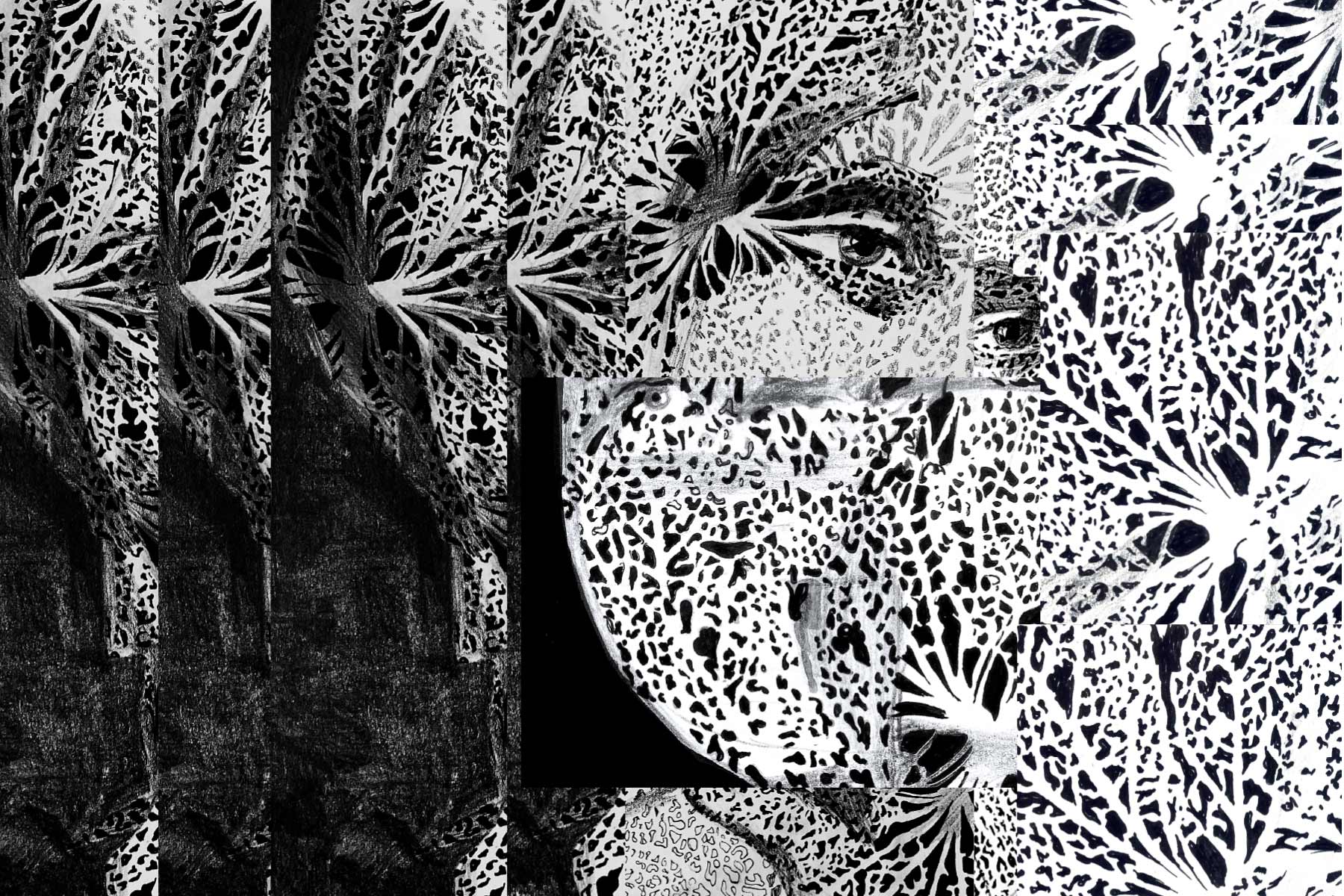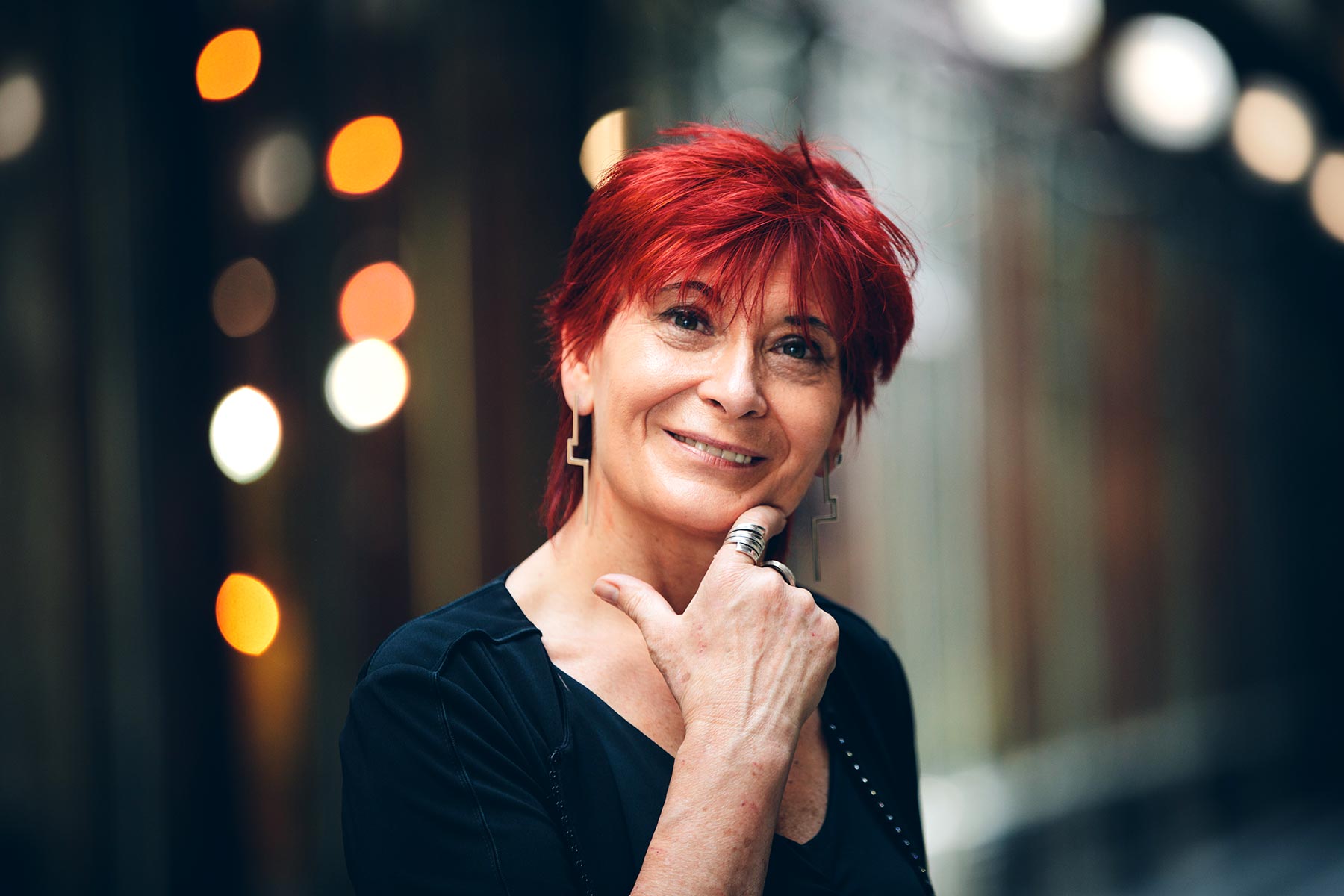 « In my work i am interested in manifesting the subtile dynamic between man and nature. Inspired from the complex and different vegetal world, animal shapes I am intending to create an universe out of new forms of life. The union of living world is at the heart of my vision. »
Visual artist, thinking of art as a laboratory of new forms of social interaction, Daniela Jordanova developed a reflection and an experiment on the complex relations between man and his environment, natural or digital.
She has always been interested in the relationships between the human, animal or vegetal species, because they share the same living space.
Like a scientific hypothesis, she tries to create an interaction between vegetal forms and the human being.
Her approach explores confrontation between several types of realities by shapes, colours and materials.
Through different medias, including drawing, painting, installation and sculpture forms – convene in a series of reflexions about the crossing process between all living creatures.
After graduation of the National Academy of Art in Sofia, Bulgaria, she specialised in lithography in Albuquerque at the Tamarind Institute in the United States.
Since 1990, she has lived and worked in France.She has realised projects in the Netherlands and Bulgaria as well.
Founder of Art Production in 1997 in Nantes, her works are part of public and private collections in France, Bulgaria, Italy, Switzerland, Japan and the United States.
2021
« Fertile land »
Drawings & sculptures objects
La Botica, Paris, France
2019
« Live' Factory »
Drawings & sculptures-objects, installation
Josilda Da Conceiçao, Gallery, Amsterdam, Netherlands
2018
« Unknown Garden »
Drawings & installation
Josilda Da Conceiçao, Gallery, Amsterdam, Netherlands
2013
« Metamorphosis »
Paintings & drawings
FIAAC, Pouilly-sur Loire, France
2011
« Double Reality »
Paintings & drawings
Bulgarian Cultural Institute, Paris, France
2009
« Movement »
Paintings & drawings
Château Cély-en-Brière, France
2007
« Five senses »
Paintings & works on paper
Atelier 44, Nantes, France
2005
« Théâtre de l'Âme »
Paintings & works on paper
La Cité Nantes Congress Center, Nantes, France
2005
« Live Memory »
Drawings & video
Monpazier Library, in program « Artist in residence » Dordogne, France
2002
« The Mask Methamorphosis »
Paintings & works on paper
Onyx Theatre, Saint-Herblain, Nantes, France
2021
Cachan Contemporary Art Biennal, France
2016
This Art fair, Amsterdam, Netherlands
2016
« Van Gogh Mini's » Museum of the Image – Moti, Breda, Netherlands
2015
Affordable Art Fair Paris, France
2013
Les Hivernales – Living Art forum Paris Est, Montreuil, France
2013
Kanagawa International Print Art, Kanagawa, Japan
2013
« Paradise Lost » Contrast Prize of of original print, Fribourg, Switzerland
1997
Founder of Art Production
Nantes, France with Stefan YORDANOV
2014
« Art Flags »
Installation Urban Art
Boos-en-Lommer, Amsterdam, Netherlands
2010
« EyEvolution »
Installation, interactive sculptures
Geological Museum – Artis, Amsterdam, Netherlands
2008 – 2009
« The Chaos »
Interactive installation on the classification by Carl Linnaeus
Geological Museum – Artis, Amsterdam, Netherlands
2006
« Cigognes de l'Estuaire… Storks without borders »
Installation
Atlantis Le Center, Hall city Saint-Herblain, Recycle'Tree Arcelor, Basse-Indre, Nantes, France
2005
« (A) live »
Video & sculpture
Museum Night, Geological Museum – Artis – Amsterdam, Netherlands
2002
« Classifiction »
Museum National d'Histoire Naturelle – Grande Galerie de l'Évolution, Paris, France
De 1998 à 2002
« Once upon a time 43 doors… »
Installation
Espace Diderot Rezé, Jacques Demy Media Library, Nantes, Trocadéro Library, Paris, France, Antwerpen Central City Library, Belgium, Amsterdam Central City Library, Netherlands
2006
« 10 yars Art production »
In collaboration Stefan YORDANOV, Paris, France
1999
« Echoes from Ireland »
In collaboration Malo BOUËSSEL DU BOURG, Edition Coop Breizh, Spezet, France
1996
« Malnoê »
In collaboration Malo BOUËSSEL DU BOURG, Edition Petit Véhicule, Nantes, France
EVERY DAY PEOPLE
« ART PRODUCTION brings together two visual artists of Bulgarian origin explore out various artistic work in a very strong relationship to the spaces, that they invest and in a strong emblematic interaction with the public. « Temple du Gout » « The Temple of Taste » in Nantes, France has been completely invested, transformed, as if turned over on itself. Introducing the space, the public almost becomes like an actor of a play whose text has been forgotten. »
OUEST FRANCE
Christophe CESBRON
IN WOOD' S HEART
« An aesthetic, artistic and playful installation at the service of environment. This installation allows everyone to discover and recognised different species of trees and plants. Visitors are invited to touch, smell and understand the tree's growth mechanisms. »
Presse OCEAN Grand Nantes
THE DAILY OBJECT BECOMES A WORK OF ART
« Any daily object can become a piece of art. As proof is the current exhibition presented in the entrance hall of the Audencia Business School of Nantes, Ecole Supérieure de Commerce. Daniela Jordanova and Stefan Yordanov, visual artists of Bulgarian origin, from Nantes by adoption, conceived and realised the installation « Best Before.. », a playful and original confrontation between art and commerce. The exhibition is a real treasure. Far from being a parody of the work of Arman, Cesar, Duchamp… ART PRODUCTION offers, with a lot of humour, another proposal. »
OUEST FRANCE NANTES
Yasmine TIGOÉ
METAMORPHOSIS
« All work of Daniela JORDANOVA revolves around this questioning : how to apprehend these tiny interstices which can, at the same time, separate and connect things between them? In addition, the intrusion of fragments of reality in the form of surfaces / mirrors also adds a factor of instability and forces a multiple reading through levels of her works. Her approach attempts to cancel out the distinction between abstraction and figuration by a process of deconstruction of the figure. It is through colour that the fusion of genres takes place here through effects of transparency, dullness but also a play on the fluidity of colours, where all traces of labor seem to be erased to reveal the imprint of the gesture. »